Jasmine (taxonomic name Jasminum /ˈdʒæzmɨnəm/)[1] is a genus of shrubs and vines in the olive family (Oleaceae). It contains around 200 species native to tropical and warm temperate regions of Europe, Asia, and Africa. Jasmines are widely cultivated for the characteristic fragrance of their flowers.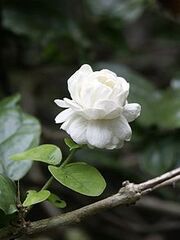 Description
Edit
Jasmines can be either deciduous (leaves falling in autumn) or evergreen (green all year round), and can be erect, spreading, or climbing shrubs and vines. Their leaves are borne opposite or alternate. They can be simple, trifoliate, or pinnate. The flowers are typically around 2.5 cm (0.98 in) in diameter. They are white or yellow in color, although in rare instances they can be slightly reddish. The flowers are borne in cymose clusters with a minimum of three flowers, though they can also be solitary on the ends of branchlets. Each flower has about four to nine petals, two locules, and one to four ovules. They have two stamens with very short filaments. The bracts are linear or ovate. The calyx is bell-shaped. They are usually very fragrant. The fruits of jasmines are berries that turn black when ripe.
Ad blocker interference detected!
Wikia is a free-to-use site that makes money from advertising. We have a modified experience for viewers using ad blockers

Wikia is not accessible if you've made further modifications. Remove the custom ad blocker rule(s) and the page will load as expected.